The Ghana Book Club an initiative of the Ghana literary prize foundation has selected 4 Books for reading in the Book of July ,which shall be discussed virtually on Wednesday the 28th of July on Zoom. The Book Club activity for now is all about selecting exceptional books written by Ghanaians one from each category  comprising of Literary Fiction, Non Fiction and Children's book, and an international book written by a non Ghanaian to enhance cross culturalism, promote it for public reading for a month and organize a meet for those that read the books, to come together and discuss the books as well as an interactive session with the authors that are available.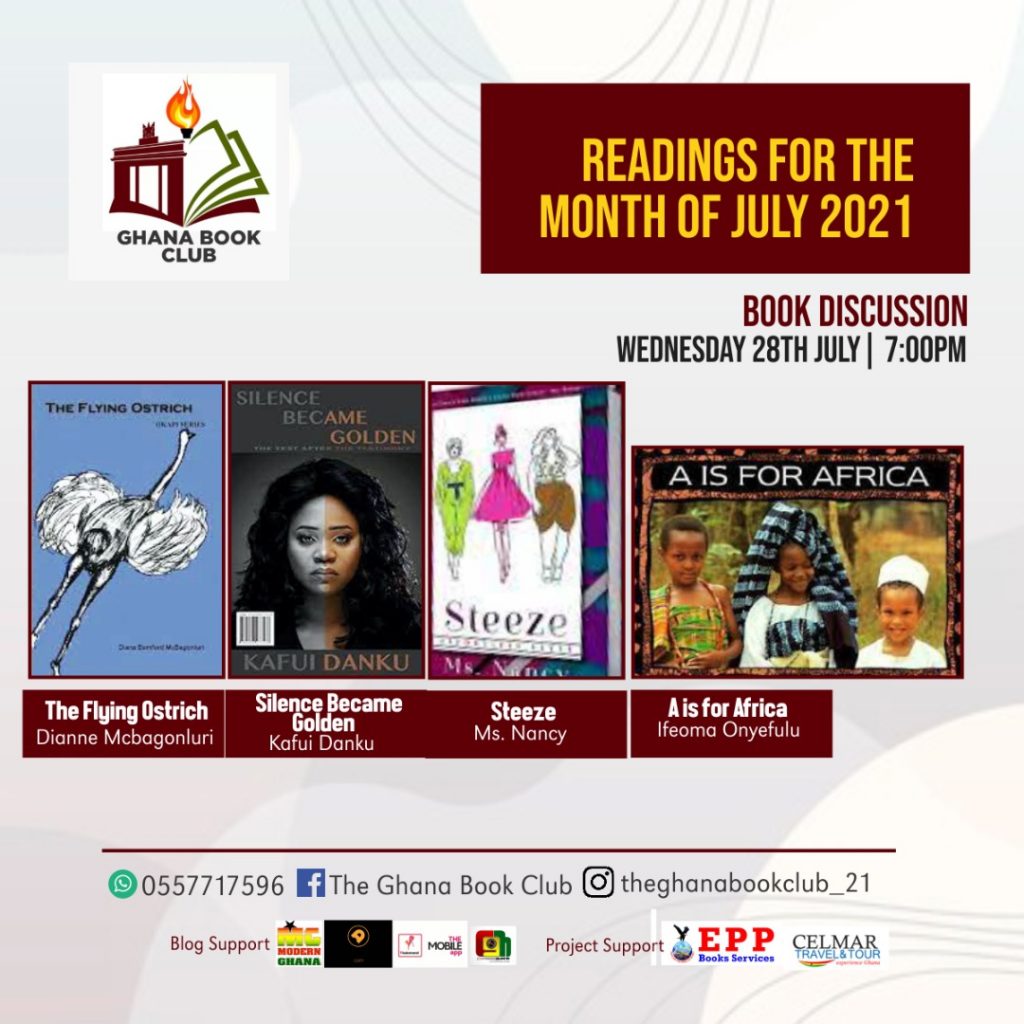 Selected for reading and discussion for the month of July taking place virtually are Steeze, Silence Became Golden, A is for Africa and the flying Ostrich below are reviews of the works and about the authors.
STEEZE
Authored by Nancy Adobea and launched on the 24th March 2021, Steeze awakens the spirit of styles culture in Ghana, Africa and the globe at large. The book bring to fore style with ease while making bold statements on effect of colors, confidence and general grooming.
The Author Nancy Adobea Anane, a.k.a Ms Nancy is a popular Ghanaian media personality, professional style coach, and a writer.  She uniquely blends the skill of writing, a personal stylist and a life coach to training others on creating and maintaining individual brands by incorporating   some level of brilliance, good looks, confidence and stress-free-lifestyle to their persona. She is mostly famous for her talks on style coaching, sex, and marital counseling which constitute her career.
SILENCE BECAME GOLDEN
Kafui Danku's Silence Became Golden which was published on 22nd March 2018 ,has equally found favor in the sight of Ghana Book Club board members to be featured in their July edition of reading.Silence Became Golden is a true life story. it incorporates a painful experience that the renowned Ghanaian film maker cum author willingly decided to share publicly, not to only educate, but to equally inspire others who find themselves entangled in the same web.Many reviewers have described the book as the "Voice of the Voiceless"  because it drums home the more often than not overlooked cries of many women and it also chronicles the ever enduring trauma of some families in real life time.
The author Kafui Danku is an award-winning filmmaker with a bachelor's degree in English and Classics from the University of Cape Coast.She is also the co-founder of ABC Pictures Limited, currently among few prominent movie production houses in Ghana that can boast of award-winning favorites such as 'Letters To My Mother', 'Happy Death day', 'I Do' and 'Any Other Monday' to its credit.She is a wife and a mother.
THE FLYING OSTRICH
The flying ostrich emerges the third book of Dianne Mcbagonluri that the Ghana Book Club has featured in 3 months . "The Flying Ostrich" published on 6th January, 2012 is a Children's book for the age range of 9-12 years. It gives an account of a young beautiful village girl Nia, who had a growing desire to one day visit the famous village goddess called Chika.As each month passes by, her thirst to visit Chika gets unquestionably stronger.
Diana Bamford McBagonluri holds an MA in English Literature from Rosemont College Rosemont, PA USA, a BA in English Education from the University College of Education, Winneba, Ghana, a Teacher Certificate from St. Monica's Training College, Ashanti Mampong-Ghana and graduated from St. Francis of Assisi Girls Secondary, Jirapa-Ghana. She's credited for the following books; Zahara's Diary, Tears of a Rain Goddess, Mother's Tribute, Sons of the Skroll etc.
A IS FOR AFRICA
Ifeoma Onyefulu's A Is For Africa, will be making it to the Ghana Book Club reading for the month of July in the Non-Ghanaian Book category.The book was published in July 1, 1997 and for the age range between 2-5 years. From the inception to the end of the book has a stunning colored photographs depicting the everyday life in a rural African village where the author grew up.
Ifeoma Onyefulu (born 1959) is a Nigerian children's author, novelist, and photographer. She is best known for her picture books which feature her photographs of village life in Africa.
A Is For Africa and the Flying Ostrich where donated to the Ghana Book Club by EPP Books Services and can be found in their book shops nationwide, Silence became Golden was donated to the Book Club by Kafui Danku and are available for purchase in all Shell Shops Ghana. Ms Nancy also gifted copies of her Steeze to the Ghana Book Club.
The Ghana Book Club is powered by Ghana Literary Prize Foundation, supported by EPP Book Services,Celmar Tours with blog support from www.modernghana.com, www.ameyawdebrah,www.cypressgh.com and www.ytainment.com
The Book Club is enjoying support of EPP Book Services which has donated Books worth almost Ghc1000 for reading pleasure of its activities, and had its maiden reading on Sunday the 30th of May.