The 13th Annual UFAR Soiree promises a night to remember with a harmonious blend of music and charitable The signature event will be held on Saturday, October 21, 2023, at the Princeton Marriott at Forrestal.
The United Front Against Riverblindness (UFAR) has consistently brought people together through their yearly soirees. Their mission remains unwavering: raising awareness and generating funds to fight river blindness. The disease, prevalent in several parts of the world, blinds and disables, drastically affecting the quality of life for many. UFAR's commitment is to change this narrative, giving hope to those affected.
This year, the stage will be lit by the mesmerizing performance of Nkumu Katalay. A renowned artist, Katalay is known for his soulful renditions that resonate with audiences globally. His participation is bound to make the evening not just entertaining but also deeply impactful. With music as a universal language, UFAR aims to unite people under a shared purpose and vision.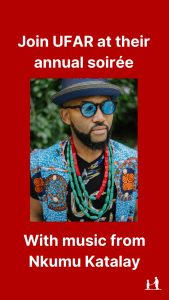 The Princeton Marriott at Forrestal, situated at 100 College Road E., Princeton, NJ 08540, will be adorned in an ambience of elegance and warmth, welcoming attendees from 7 to 10 p.m. Guests can anticipate an evening where compassion meets celebration. Music will not be the only highlight; the event will underscore the significance of collective efforts against river blindness.
UFAR's dedication has been evident in its consistent endeavors. By organizing events like the annual soiree, the organization not only garners attention towards a critical health challenge but also ensures a substantial accumulation of resources to combat it. Their message is clear: united, we can make a discernible difference.
For those eager to be part of this memorable evening, tickets are currently available. The organization encourages early bookings to secure a spot and be part of a cause larger than oneself.
For a more in-depth look into UFAR's mission, history, and significant initiatives, their official website provides extensive information. To remain updated on their ongoing projects and events, UFAR's Instagram handle, @ufar_ntds, offers a continuous flow of information, stories, and updates.
The 13th Annual UFAR Soiree is more than just an event. It's a testament to the human spirit's resilience and the belief that collective efforts can bring about lasting change. October 21 promises an evening of soulful music, heartwarming camaraderie, and a renewed commitment to a world free from riverblindness.