Barely days after Chiwetalu Agu was released from DSS Detention that was followed with his altercation with the Operation Golden Dawn force of the Nigerian Army at Upper Iweka in Onitsha Anambra State, he has been spotted for the first time in a long while in a garment that is in no way related to the symbolic Biafran regalia that he adorns, which also led to his serial detention in facilities of Nigerian security operatives.
Chiwetalu Agu a veteran and prolific actor of the Nigerian Movie Industry known as Nollywood, was accosted and arrested by members of the Nigerian Army for a provocative behaviour, speaking on the incident, Brig. Gen. Onyema Nwachukwu, the Army Public Relations said the veteran was apprehended for inciting members of the public and soliciting for support for the proscribed Indigenous People of Biafra (IPOB).
From a recorded video footage that circulated on social media on the 7th of October while he was still in military detention, Chiwetalu Agu reiterated to the soldiers that his outfit that drew their attention is not a regalia of the Indigenous People of Biafra (IPOB) that was proscribed by the Federal republic of Nigeria, but rather a cloth with artistic impression of a rising sun, which is not a property of IPOB or Eastern Security Network.
The purpose of this article is not to revisit the issue but rather to draw public attention to brands on the possible good that can come out of embarrassing situations or tragic incidents of such, Chiwetalu Agu's seeming act of defiance is being condemned as well as commended, depending on the side of the fence you are sitting, but incidents like that and others that are occurring in our society really do present opportunity for brands to participate and engage in social events of significant relevance to the promotion of peace in the nation.
Woke commercial entities at this information age are very smart in utilizing real life situations like that in drawing attention to their businesses, remember the incident in November 2019 when a South African man was called out and teased for proposing to his fiancé in KFC, a journalist ridiculed him for his choice of using KFC as a place to propose , She tweeted, "SA (South African) men are so broke they even propose at KFC. They have absolutely no class, I mean who proposes at KFC?"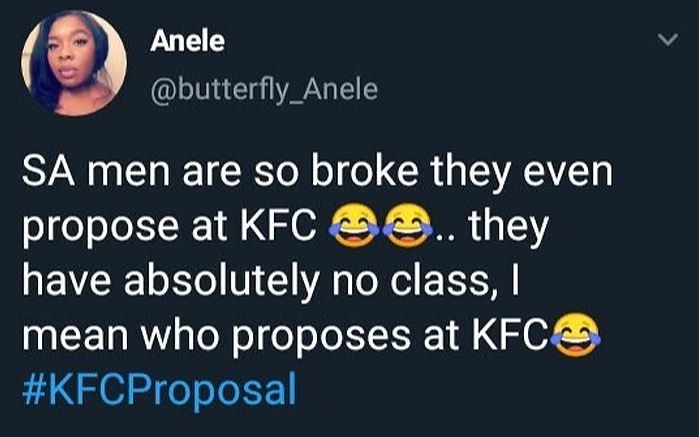 However, this tweet got her immense backlash and made the couple even more famous. So much that big brands started tweeting about them in an ode to help them have the wedding of their dreams.
Her dig on the man drew global attention and triggered a counter reaction as brands all over south Africa keyed into what's supposed to be an embarrassing situation to the man and his fiancée, and turned the couple and their wedding one of the widely celebrated events of 2019 as the incident was even reported in far away India.
It all started started when KFC South Africa shared the proposal video on their official account and asked the people of Mzansi(South Africa) to help them find the couple so that the brand can support their wedding.
The couple was identified as Bhut Hector and his bride Nonhlanhla as they were found, more and more brands started pouring out gifts and love for the couple. From McDonald's to Audi, Puma, Crosse Blackwell, Fatti's & Monis, Ace, Golden Cloud, All Gold, Benny, Colman's, Holbrooks and King Korn,   a lot of brands both national and multinational came in support of the couple ensuring that they had a wonderful wedding experience.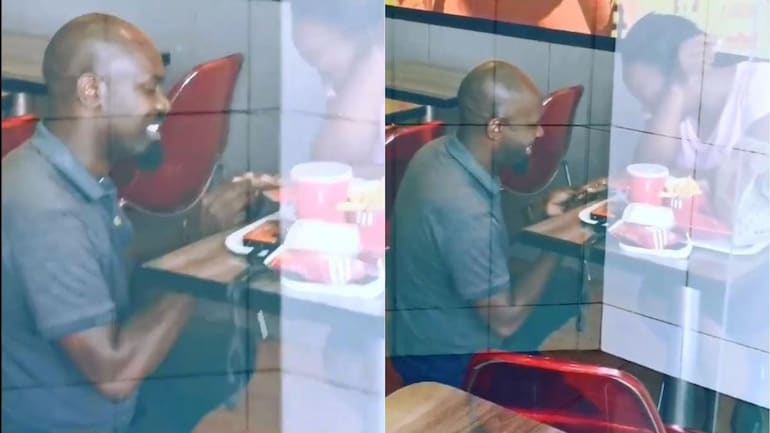 They received Diamond rings for their wedding as gift, free ride to their wedding, clothings, shopping voucher from PUMA etc, basically everything about the wedding was eventually taken care of by corporate organisations that keyed into the moment,even music artists performed for them free.
Ogelle's corporate leadership in Rwanda and Nigeria has been a people oriented brand, offering opportunities for creative's and youths to earn an income with their craft by creating and publishing their videos on the pan African video content curator website to earn direct income as the public views their creative content.
The Nigerian chapter of the continental brand has been leading in social responsive actions, when Salle the 17year old hawker popped up on social media emerging a sensation, Ogelle circulated messages on social media offering a substantial amount of cash reward for anyone who can locate her, so they can her sign her up and support her music career, before it became a public knowledge that she already had a management.
 Now Chiwetalu Agu is trending in an Ogelle t-shirt, We really cannot confirm if Chiwetalu Agu's pic in Ogelle branded garments were taken before the Upper Iweka incident or after. And if Ogelle has signed a commercial deal for the actor to be sampling their brand t shirts henceforth then they are playing a part in dousing the tension between the popular actor and the Nigerian security outfits and also giving Chiwetalu Agu a reprieve or a form of consolation from the embarrassing incident he suffered not too long ago with an endorsement.
However we look at it, Ogelle the leading pan African content brand is making a difference in corporate social responsibility activities in Nigeria with their social responsive action, and is promoting peace, progress and development with social issues in the Nigerian society. Such an innovative management deserves accolades; if other corporate brands in Nigeria will be as much diligent as they are with our trending social contents we will have a better nation in a very short time.