"I'm playing at the Mercury Lounge in collaboration with DJ Henri . We're co-producing the event . I've never actually been to the Mercury Lounge. This will be my first time. Doors Open at 9 p.m., and the first set will go on at 9:30 p.m." The soft spoken Congo-Kinshasa born Rumbianfunk creator said in a recent interview.
Nkumu Katalay who was raised in Harlem has remained consistent since his emergence in the creative scene of New York with his African culturally inspired Congolese rumba, an indigenous harmonic tune from his maternal home nation of Congo Democratic Republic ,his father coming from from Guinea-Conakry in West Africa as he recently revealed in a recent interview while narrating his spiritual Journey with his artistic constructions.
Nkumu and his Life Long Project Band are persisting in penetrating into the social mainstream of the world with RumbianFunk which he created by infusing Funk into Rumba, his previous hit songs Zua Lokolo, Clear My Path and others has maintained an upward trajectory since their release few years ago, he has also performed and opened concerts for legends in the Afrocentric music industry like Koffi Olomide ,Flavour of Nigerian Highlife and more.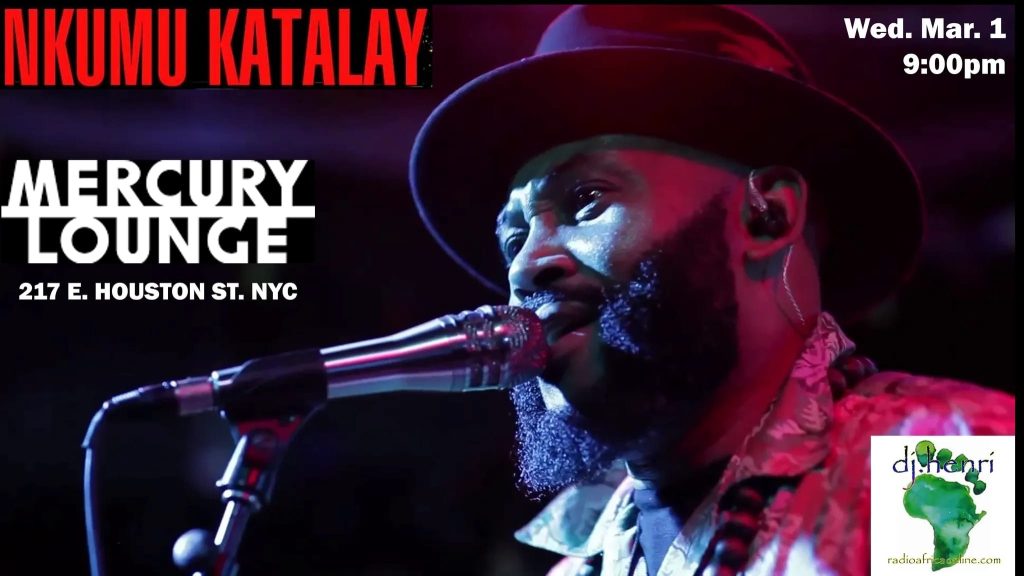 All is set for an evening of ecstatic experience at Mercury Lounge as Nkumu Katalay has previously done at his previous concerts and gigs like his Night of Cultural Zest Made in Congo at the Shrine Harlem, Congo on Off Broadway live at The Triad Theater, Menekere Legend in Ivory Coast, like always the Radio Africa Online presents Nkumu Katalay live at Mercury Lounge is expected to be an extra ordinary evening with a multicultural dimension.
The self styled Rumbian Funk Maestro is set to utilize the vital opportunity of the event to showcase to the world the innocence and mystery in the mystic art of expressing Congolese music with guitar and drums, conveying his own rhythms and style inspired by century old traditions and culture of his ancestors and predecessors right at the Mercury Lounge invoking the ever living spirits of yester-years today.
Every aspect of the evening will be worth to be beheld, as Indeed reflected in the exact vibe of Nkumu Katalay's performance with his band which will be dynamic and outstanding as he is known to top expectations of his audience always.
If you are nearby or in New York and hunger for a night of African entertainment, then Mercury Lounge is the place to be.