United States Latino America Chamber of Commerce (USLACC)   is  running an Overseas program for the development of African youths  titled  Technology Development Program for African Youths, abbreviated as TECH-D PAY.  Tech-D PAY  is an African wide program and it is aimed at creating a window for the Africa youth to gain opportunities, internship and international exposures for Technology  development and career optimization.
The Tech D Pay inauguration will hold at the International Conference Center Abuja on the theme: Youths Arise to Drive the Economy. The day activities will include official unveiling of Tech D PAY Project, performances, speeches, Awards, Inaugurating USLAAC leaders and Press Conference. The program will start by 10am prompt.
The TECH D PAY projects line of action is to obtain advanced skills and Technology Development and transfer of knowledge to help develop Africa, of which the African leaders shall be sponsoring the youth of Africa for their training and development to enable them drive the economy as young and vibrant youth of Africa. Considering the huge mineral resources and huge investment opportunities, abound in Africa, yet youth are suffering and under developed.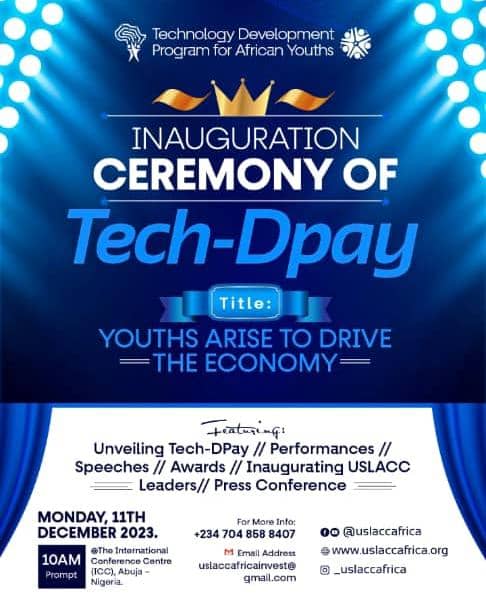 USLACC Africa has taking over through their purposeful Administrative/Supervisory measures, to fight for the developments of Youth.
"We plan to achieve this through building structures and partnerships with companies, industries, institutions and factories in the advanced world that produce all these products we import all the day, that can offer internship for technology transfer.
So on the 11th of December 2023, next month, Nigeria will be hosting the inauguration of TECH-DPAY, and the flagging off of a giant stride for African emancipation. So African leaders, Embassies, Philanthropists and Youths  are expected to converge in Abuja for the flag off." Amb. Ifeoma Ejiogu the African  Ambassador of USLACC said.