As multiple reactions trail the demolition of Nigeria's diplomatic properties in Ghana over a seemingly land dispute, which has attracted disparagement to governments of both nations.
Following the illicit act that was perpetrated under the cover of darkness, which has been condemned by both the ministry of foreign affairs of the two nations, the Osu Chieftaincy stool in Ghana, released a press statement affirming that the land on which the demolished property was situated rightfully belongs to them.
In the statement the occupant of the custodians of the Osu Stool entreated that they had consistently made efforts to get attention of the contractor developing the site to no avail before resorting to demolishing the property.
But official documents and history of how Nigerian government acquired the property has emerged to douse the claims of the Osu Chiefs.
A confidential source has revealed that the Minister of foreign Affairs Allen Onyeama said during the PTF briefing that Head of Chancery of the Nigeria High Commission Ghana, in company of the Ghana Foreign Affairs Minister ,went to the Lands Commission of Ghana yesterday for verification , and the updates from there showed that the land legitimately belongs to Nigeria High Commission Ghana.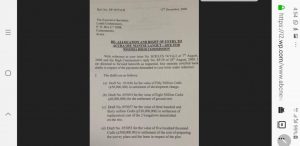 As the published documents specified.
He also got a confirmed assurance from the Ghana Minister of Foreign Affairs, that President Nana Akufo Addo has directed that the perpetrators be arrested unfailingly the same day.
An alleged historical milestone of the entire subject matter revealed that in the 1960's those plots of land were ceded to Nigerian Govt by Ghana govt.
In 2000 President Olusegun Obasanjo and Jerry Rawlings exchanged correspondence, met and resolved the issue of ownership, Nigeria paid Ghana Govt 50 Million Cedis .
In 2012 the building work which was demolished on Friday 19th June 2020 commenced on the land situated behind the residence of the Nigerian High Commissioner to Ghana.
https://www.pulse.com.gh/business/nigerian-retailers-protest-in-ghana-as-they-complain-of-unfair-treatment/59kqv7r
National Association of Nigerian Traders Ghana (NANTS) embarked on a further street demonstration yesterday over the closure of the shops of their members in Ghana heating up the already fragile bilateral relationship between the two economic power house of West Africa.