Today's International Men's Day came unannounced and without all the glamour and euphoria that is associated with the day for the female gender, which attracts all sorts of attention and complimented with symposiums, conferences, workshops, summits and all sorts of conversations on the local and international scale, various activities are held on the 8th of March led by UNWomen, Commission on the Status of Women,joined by civic society organisations, feminists , activists, scholars from all walks of life and in all corners of the earth, including first ladies of nations, all aimed at drawing global attention to socio-economic issues and cultural challenges that women are going through all over the world.
Today the world did not pause as it does on International women's day,yeah a few group or organisations must have marked the day with a few celebrations here and there, some electronic banners with encouraging messages and good wishes aimed at motivating men for their sacrifice and selfless efforts in building the world were in circulation,but the attention the day got even from the men folk did not have an impact on either economic or social activities of the day, most people did not notice,but a few men like Dr Kingya on his column and social media handles took time to celebrate the menfolk in his life including his two young boys and explains why.
"On today's International Men's Day, I honor my Father. Who has taught me to keep God first in my life, and to keep pushing forward against all odds. I also honor my two young sons for being the outstanding young men that have inspired me to be the best father that I possibly can be." Dr. Kingya wrote on his periodical media column dubbed Media Kit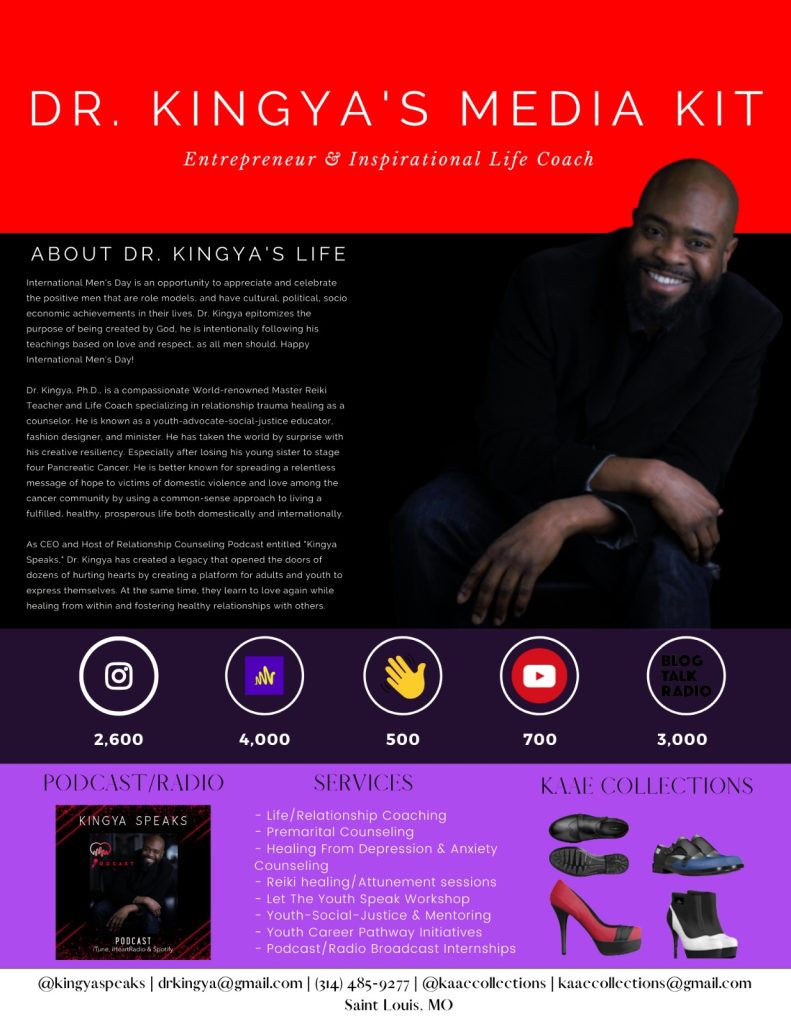 "International Men's Day is an opportunity to appreciate and celebrate the positive men that are role models, and have cultural, political, socio economic achievements in our lives. in all that I do,I try to epitomizes the purpose of being created by God, and am always conscious about intentionally following his teachings based on love and respect, as all men should, so many men are taking exceptional pains by playing vital roles in leading this world towards the direction that its creator wants it to go and deserves to be honoured on days as this, people like Martin Luther King,Mahatma Ghandi and so many others" He reiterated.
Dr. Kingya, Ph.D., is a compassionate World-renowned Master Reiki Teacher and Life Coach specializing in relationship trauma healing as a counselor. He is known as a youth-advocate-social-justice educator, fashion designer, and minister. He has taken the world by surprise with his creative resiliency. Especially after losing his young sister to stage four Pancreatic Cancer. He is better known for spreading a relentless message of hope to victims of domestic violence and love among the cancer community by using a common-sense approach to living a fulfilled, healthy, prosperous life both domestically and internationally.
As CEO and Host of Relationship Counseling Podcast entitled "Kingya Speaks," Dr. Kingya has created a legacy that opened the doors of dozens of hurting hearts by creating a platform for adults and youth to express themselves. At the same time, they learn to love again while healing from within and fostering healthy relationships with others.
Happy International Men's Day!