Girls Can Lead Africa is delighted to share the success of the launch of the EmpowerHER Project, a groundbreaking collaborative effort with Dorcas H. Amanor, as part of her fellowship with the US State Department's funded Community Engagement Exchange Program.
The EmpowerHER Project focuses on SRHR Education, Mentorship, and Leadership Training. This initiative is a holistic empowerment program designed to empower girls in Ghana and across Africa. Its primary objective is to facilitate the creation of secure support networks in the communities by introducing Girls Can Lead clubs in local schools. While equipping girls with the knowledge, skills, and support they need to make informed decisions about their sexual and reproductive health and rights (SRHR), this program also focuses largely on nurturing their leadership potential through mentorship and training.
Julia Heita – Moderator
The project recognizes the critical role that educated and empowered girls play in fostering social and economic development within their communities.This project is made possible through the support of Girl Up, a United Nations Foundation initiative, and is supported by IREX and the Yilo Krobo Municipality.
The EmpowerHER Project launch, held on October 5, 2023, marked a significant step forward in our mission to empower and uplift girls and women across Africa. The event was a resounding success, and we extend our heartfelt gratitude to all who joined us for this momentous occasion.
Event Highlights:
The EmpowerHER Project launch brought together passionate individuals and organizations committed to advancing gender equality and girls' empowerment.
Our esteemed moderator for the session, Julia Heita, an experienced media personality from Namibia, skillfully guided the discussions, ensuring a lively and informative exchange of ideas.
During the launch, it was revealed that Girls Can Lead Africa would be launching the first-ever edition of the annual Girls Can Lead Africa conference this year.
Special guests Samira Mohammed Ibn Moro and Dorcas H. Amanor enriched the event with their valuable insights and experiences, inspiring all attendees.
Samira Mohammed Ibn Moro holds an MSc in African Studies from the University of Oxford, and she is extremely passionate about girls' education and empowerment in local communities.
Dorcas H. Amanor is also the founder of the Girls Can Lead Organization and a recently returned Alumni of the CEE Fellowship.
Samira Mohammed Ibn Moro – Guest
The EmpowerHER Project seeks to create lasting change by providing girls and women with the tools, resources, and support necessary to become leaders in their communities. During the launch event, we had the opportunity to delve into the project's intricate details and promising prospects, highlighting the positive impact it aims to make on the lives of girls and women across Africa.
Dorcas H. Amanor – Guest
For those who couldn't join us live, we encourage you to watch the recording of the event on our Instagram profile (@gclafrica). We believe that the discussions and ideas shared during this event will continue to inspire and drive positive change.
Girls Can Lead Africa remains committed to our mission, and we look forward to collaborating and partnering with other organizations and institutions that are equally passionate about empowering girls through education.
We invite you to stay connected with us for updates on our work and upcoming events.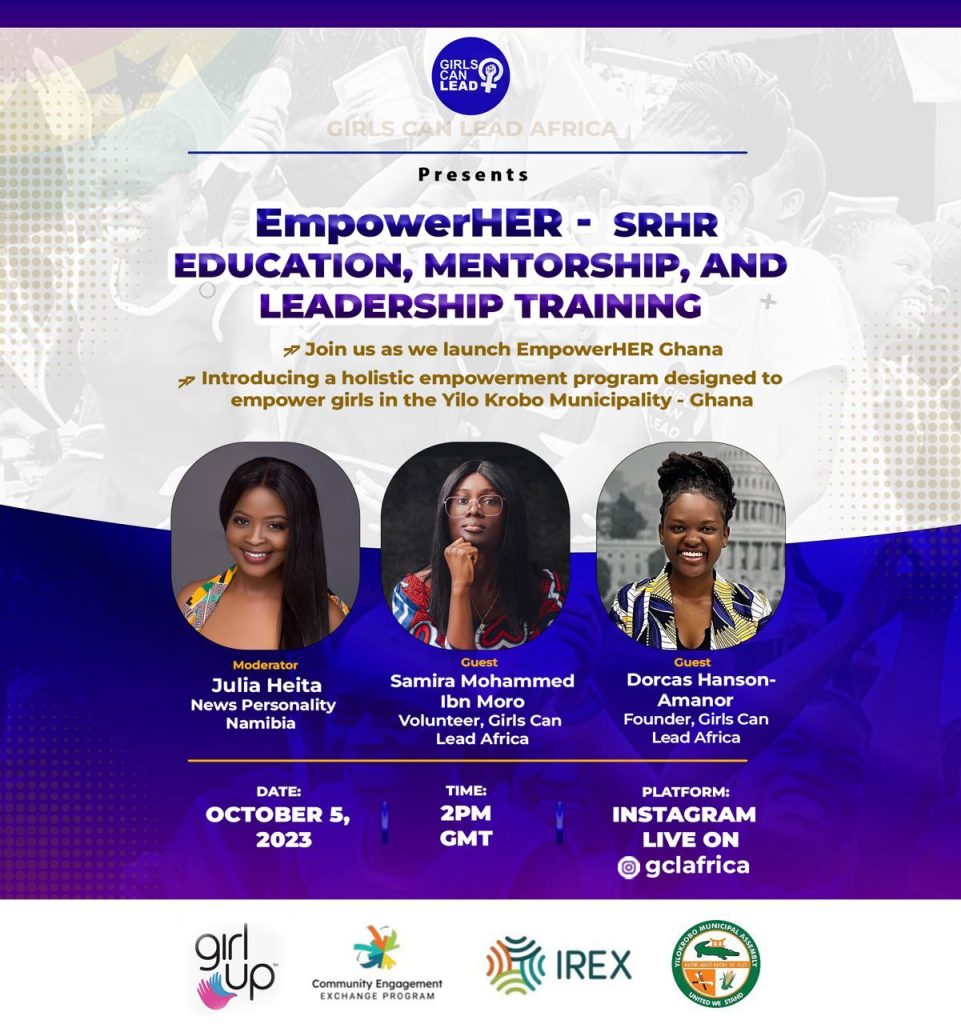 For media inquiries or additional information, please contact:
Dorcas H. Amanor
+233503137287
About Girls Can Lead Africa:
Girls Can Lead is a non-profit organization taking action to empower girls in Africa through education, using our grassroots-led initiatives to tackle the various cultural and infrastructural barriers that disrupt girls' access to quality education.