6 Months after the tragic incident at the Lekki toll gate that culminated to the end of the #EndSARS protest with a controversial shooting incident, which the facts are yet to be ascertained till date, the Federal Government of Nigeria set up a tribunal to investigate the depth of the crimes of the Special Anti Robbery Squad SARS against the Nigerian public.
Tola Azeez that was abused in Osun State by Nigerian police men during the lockdown in a video that went viral as she was flogged by cops for flouting the lockdown rule was awarded N5 Million Naira as damages, in another case Mrs. Hannah Olugbodi was awarded 10 Million Naira for sustaining bullet wounds on her legs from members of the police in Lagos, the sum of N210 Million Naira was also awarded against the Nigerian Police in Bauchi State for killing two suspects and injuring another one gravely and the story goes on.
Amidst all the recorded success against the Nigerian police, one of the highly trended social media calling out of one former SARS Official Assistant Superintendent of Police (ASP) Ugochukwu Ozoude is not going as expected by those that raised the accusing fingers against him.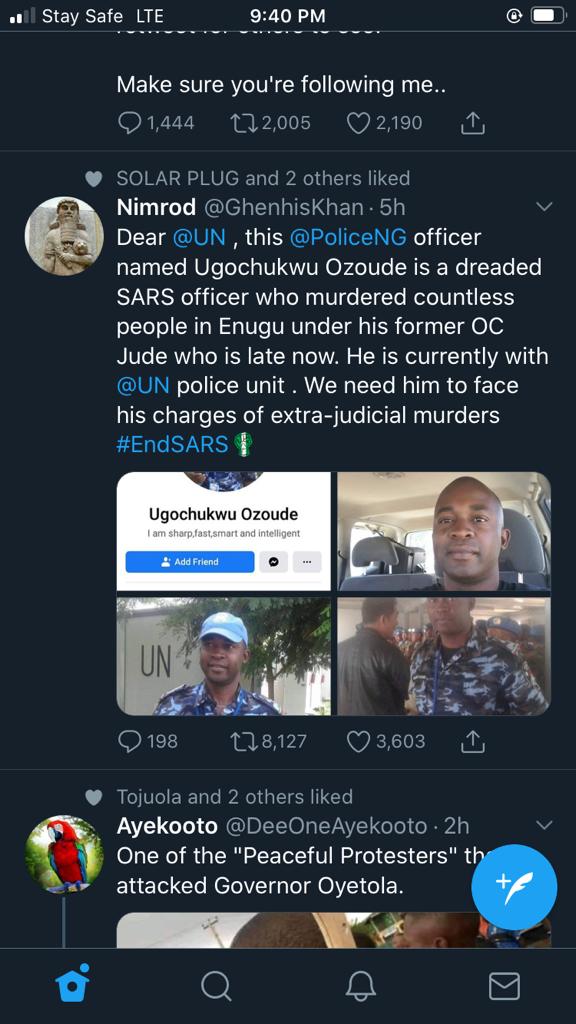 "if I was or had gone rogue in my time as SARS Official in Enugu, the traits of such character would have shown in the 2 years I spent in Darfur , sure I wouldn't have been rewarded with two awards, for my contribution by the United Nations African Union Mission that I served under''
Henry Obodozie's Apology
One of the Architects of the social media smearing campaign against ASP.Ugochukwu Ozoude known as Nimrod@GhenHisKhan on twitter ,whose birth names is ascertained to be Henry Obodozie has apologized to the Mr.Ozoude for the role he played in tarnishing his reputation 6 months ago.
Henry Obodozie who is presently enmeshed in series of fraud allegation against his person which is currently trending on twitter over swindling a woman her 2.5 Million Naira meant for her daughters medication, https://newsoneng.com/2021/04/19/how-malik-shabazz-abdumalik-aka-nimrod-scammed-us-victims/ did a short video apologizing to ASP. Ugochukwu Ozoude few days ago, explaining how he lost his demeanor at the heat of the #ENDSARS protest and has realised how wrong he was, after the Enugu Tribunal could not find ASP.Ozoude culpable on any case of extrajudicial killing.
https://fb.watch/53XTOyIxjS/ -Henry Obodozie's apology video.
In the ongoing #EnuguStateEndSARS panel of inquiry, more evidence has come to the fore showing that Mr Ugochukwu Ozoude who was a member of the now defunct Anti Crime unit SARS that was accused widely on social media spaces as having been a murderer as alleged by a certain Facebook user by name Mr Charles Ogbu and his cohorts turned out to be complete falsehood in its entirety .
Mr Charles Ogbu and Henry Obodozie had during the #EndSARS protests posted pictures and private information of Mr Ugochukwu Ozoude and called on the public to harass and threaten him with phone calls and messages to the extent that the lives of his family was threatened. The mental torture and trauma the family went through that period is something not worth experiencing.
The panel of inquiry has been on for about 6 months now and in all the evidences presented by the panel so far, no record of Mr. Ugochukwu Ozoude of having been involved in any illegal activities or extra judicial murders has been proven or even presented, Instead, glowing testimonials have been all the panel of inquiry has been getting extolling the achievements of Mr. Ozoude while he served as a SARS officer before his current promotion in the police force.
Mr. Ugochukwu Ozoude is delighted that it is now getting clearer by the day that he was a victim of targeted persecution and harassment . ''I would rather allow the public to be the judge of the entire harrowing experience that I've been put through, I have made peace will all those who tried to destroy my name and caused my family grief during the period of the protests in 2020." He responded to our questions.
ASP.Ugochukwu Ozoude's Records
Almost a decade ago, a young corporal by the name of Ugochukwu Ozoude was enlisted into SARS Squad in Enugu State in 2009, where he served just for 2 years in the role of an Information technology expert,in which he used his competence in computer literacy, to track mobile devices of armed robbers and Kidnappers in the state,thereby leading the field team to their actual location which culminated to them being arrested.
As a young corporal back then, when arrests are affected the O.C (officer in Charge) takes over the case, as he is immediately assigned to tracking location of the next criminals whose case are on the desk awaiting attention.
His success in this special tactical endeavor endeared him to his seniors, fast tracked his recognition and enlistment for promotion; in 2011 he was drafted into a compulsory one year training course, to prepare him for his promotion to an ASP. As soon as he was decorated after the one year course that elapsed in 2012, he was transferred to headquarters operation as an Orderly to the Commissioner of Police in Imo State.
In 2013 he was transferred to Akwa Ibom, in 2015 he passed UN exams and went for UN Peace Keeping operation for 2 years in Darfur Sudan, the mission was to last for a year but he had his stay extended for another year because of his professionalism and competitiveness, in March 2017 he finished his mission and was transferred to Enugu in the State C.I.D. department.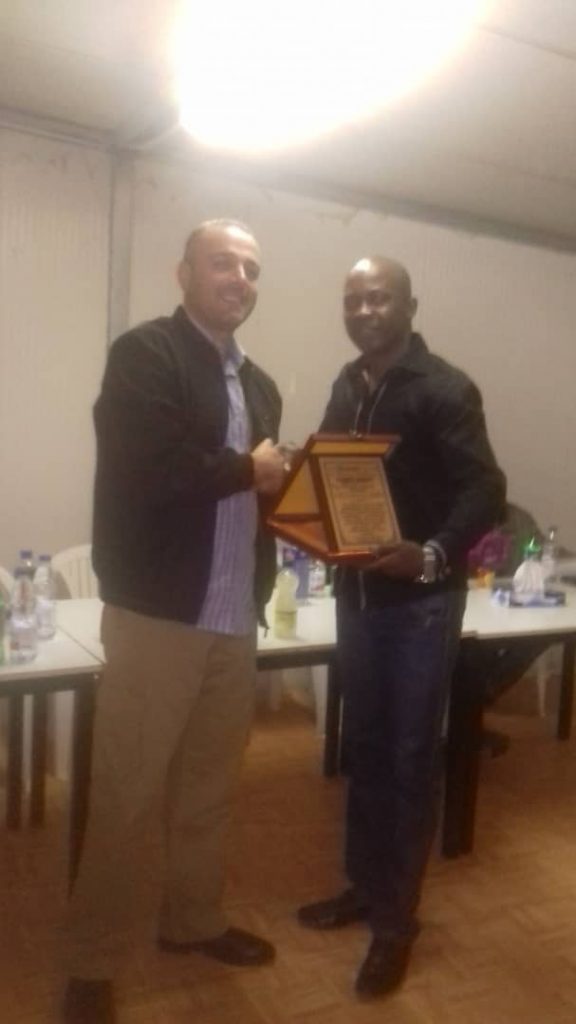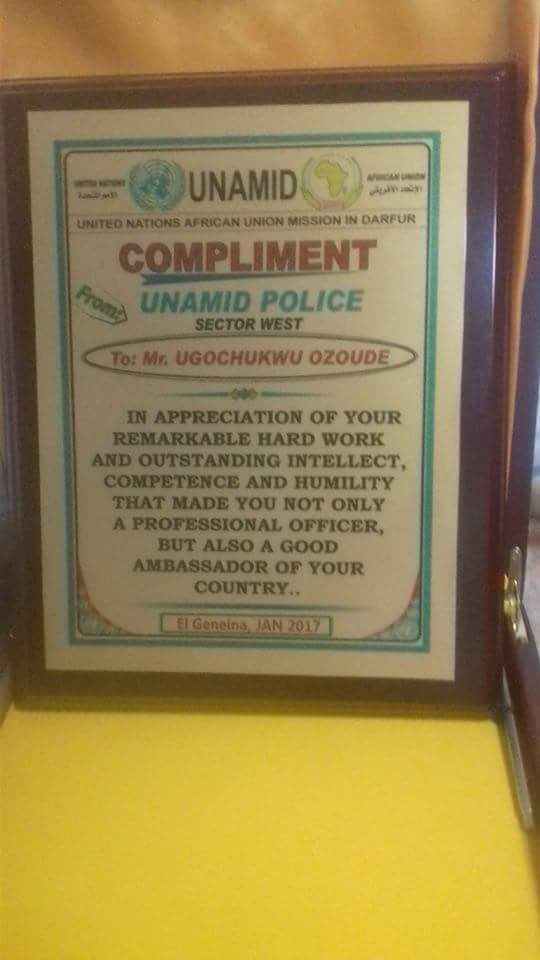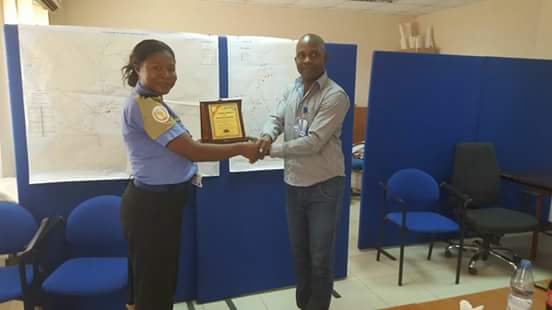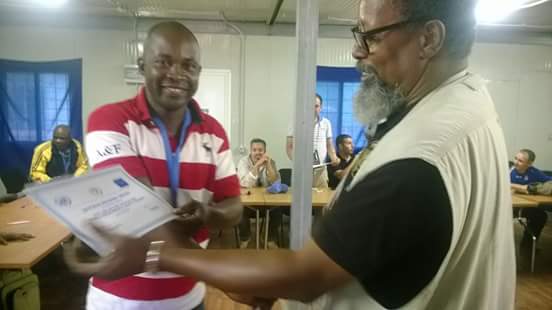 "if I was or had gone rogue in my time as SARS Official in Enugu, the traits of such character would have shown in the 2 years I spent in Darfur , sure I wouldn't have been rewarded with two awards, for my contribution by the United Nations African Union Mission that I served under''
"The situation is quite disturbing, as am being misrepresented by this media trial, after all my diligent and selfless strides in service, but am not perturbed ,because my records and history in the service is still fresh and are there for any special prosecution to verify them if need be" he reiterated.
Friends of the former SARS official are sending positive messages on his behalf on social media, affirming his professionalism, respect for the rule of law and high morals in discharging his duties, both as an officer of the law and as a father,friend and good citizen of the Nation.