Queen Diambi Kabatusuila, Queen Mother Obaapa, Racha Haffar, Dikeledi Mokoena, Fabrice Muchiga, Prof.Okonkwo Contributes their Expertise in Diverse Perspectives to the African Elders and Women Intercultural Dialogue (AEWID)
At the African Elders and Women Intercultural Dialogue (AEWID) held as a parallel event at this years Commission on Status of Women (CSW) events for Non Governmental Organisations, All Africa Media Network (AAMN )in collaboration with Global African SHEROES Union (GASU) were able to host the virtual edition of AEWID at the United Nations Forum.
The African Elders and Women Intercultural Dialogue, flagship event of AAMN has consistently featured prominent African voices and institutions, some of the dignitaries to chair this dialogue and grace the event in person since 2017 are former Vice President and mother of the Gambia Struggle, Her Excellency Mrs. Fatoumata Tambajang Jallow, spouse of former Vice President of Nigeria, Her Excellency Mrs. Amina Titi Abubakar, both co-chaired the 2018 Dialogue in Abuja.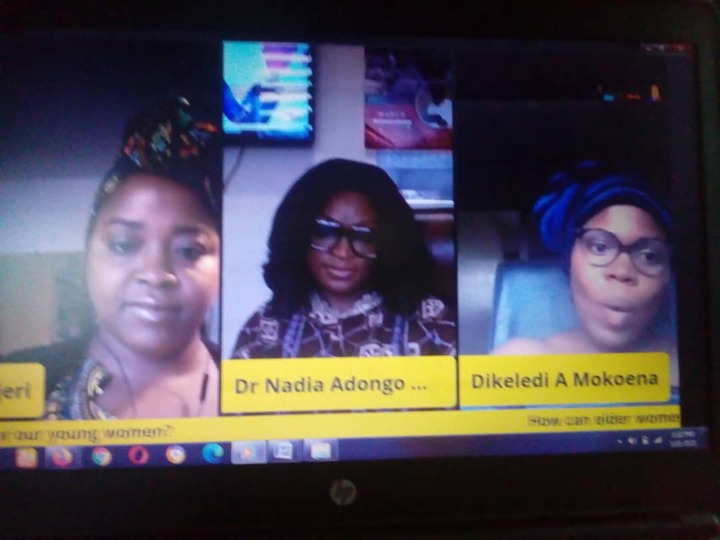 Her Excellency Ambassador Dr. Erieka Bennett, Head of the Diaspora African Forum Mission was the chairperson for the inaugural Dialogue in 2017 held in Accra.
This year's event didn't lack quality representations ,as the first lady of Sierra Leone ; Mrs. Fatima Maada Bio, Deputy Chief of the Diaspora Affairs office of the President of Ghana; Ms Nadia Adongo Musah, International Representative of Hon. Louis Farrakhan of the Nation of Islam, joined the discussion this time at United Nations Forum with Dr. Njeri moderating the process.
This year's theme Guardians and Guidance of Culture: Inviting global attention to the menace of institutional slavery, forced labour and human trafficking, opened an intellectual pathway for re-interpretation of human relationships hinged on prejudice and called for blueprints towards its total elimination in the human society.
The special guest of the event Her Excellency Mrs. Fatima Maada Bio gave a profound keynote speech that was diversified in its content,as it floated around the core aspects of the dialogue, sparking deep reflection and contributions from the panelists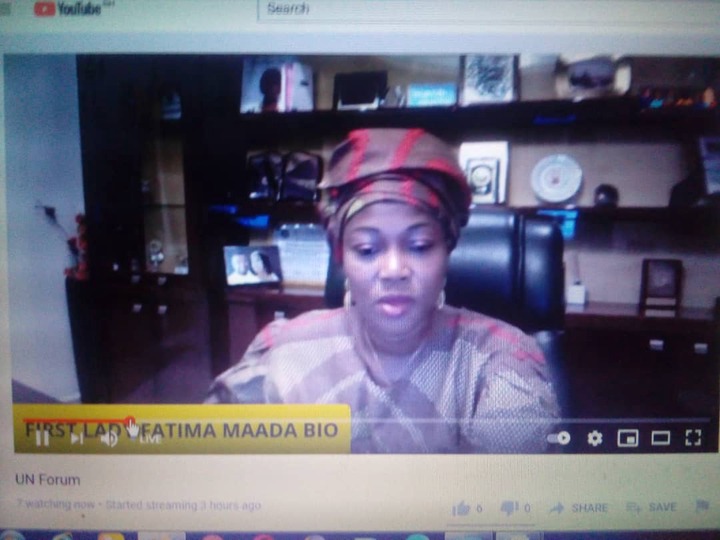 '' I have always been a woman that believed in women empowerment, I have always believed that for us Africans to succeed we have to be able to channel our own agenda, we have to be able to address our own issues and pursue our goals and dreams, we have to dare and dare to wanting to see the change we are supposed to have in Africa."
"I don't have all the answers to all the problems or solutions in the world, especially in Africa, but I know that the direction the world is going now, the world needs more HE for SHE, men that believes in women, men that sacrifice a whole lot for women to thrive, who understands that the human relationship between the genders should not be interpreted from the perspective of discordance over who is superior or who should dominate the other because in truth there is no competition between the woman and the man''
''As a woman I will always encourage we speak for our equal partnership, we have been in a situation for a very long time that women has been sidelined from decision making, I want to change that in my country, and in the continent. I want women to advance on all fronts ,because I want women to be heard, I want women to have power, not power to abuse, but power to speak up and call for changes in social conditions that are not serving their needs'' Mrs Fatima Maada Bio emphasized at the discourse, as notes from her speech influenced the direction of the 3 hour long intercultural dialogue.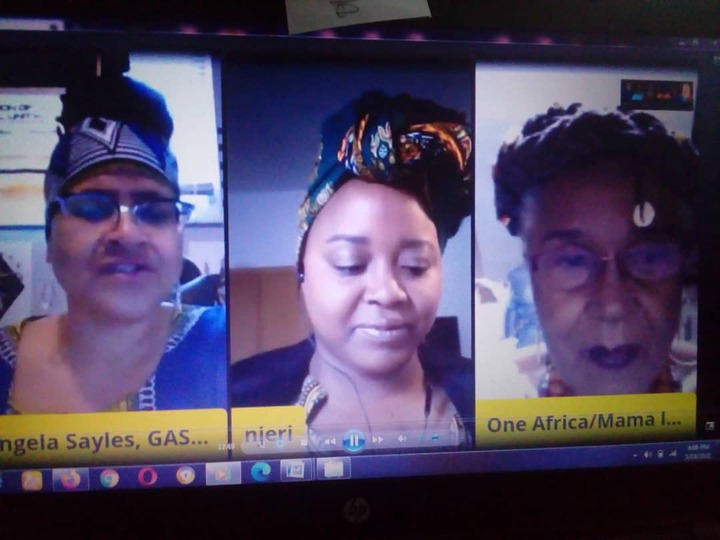 The Deputy Chief Diaspora Office of the President of Ghana Ms. Nadia Adongo Musah elaborated on the effort of Ghana Government ,towards its fight against human trafficking with the three P's of Prevention, Protection and Prosecution which the nation is using as a module to engage unacceptable social crimes like human trafficking, forced labour and more, She highlighted the efforts of relevant state operatives like immigration,police and others ,channeled towards sensitization of the populace, especially in the rural areas to keep them abreast with information regarding their rights and how to protect themselves from such exploitation.
The Queen Mother Obaapa Awindor gave a brief narrative on the efforts of the Cultural leaders in the rural areas, and how it's reflecting on the national success in efforts against heinous practices on vulnerable people as well as the recorded success against the child labour in a community where kids are used for hands in the fishing business ,how the Queen Mothers intervened by rescuing the affected kids and enrolling the affected youths back to school.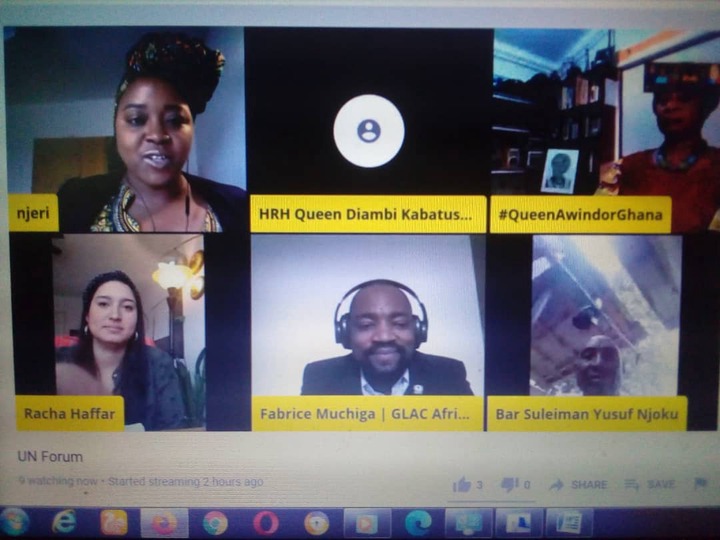 More contributions were derived from the regional contributions in the continent, Dikeledi Mokoena a south African living inTanzania decried the culture of allowing men who abuse women access to leadership positions in the continent, as men who are notorious for abusing women are sometimes seen in leadership positions ,even at parliaments making laws.
"As women we have to be strong, but the culture of endorsing the violence against women in the political sphere has to change, because there seems to be no repercussion for men who actually behave violently against women" Dikeledi Mokoena Associate Lecturer of Nelson Mandela University's hinted with her contribution.
Racha Haffar the founder of Youth Against Slavery Movement, raised vital questions in her contributions "Culture is in the heart of all we do in Africa, and also a culprit in most of the issues that we face, because in Africa our culture is something that we inherit , it's an important factor of our life that we cherish but from generation to generation our culture facilitates and actually cultivates the maintenance of enslavement and trafficking in Africa"
"Where do we then draw the line between appreciating our culture and respecting it and the same time challenge this norms that do not work for us anymore that it has embodied, we cannot talk about sustainable development, we cannot talk about development as whole if our systems are following cultures and norms that continue to create divide and impose injustice on certain communities because of what we think is right or wrong hinged on our culture."
"Forced marriage and child marriage are forms of slavery and it's going on everyday in African communities. What is the solution? Everything is connected; these are the root causes that lead people to be vulnerable and therefore trafficked and exploited ."
"Africa has the highest number of children in child labour, at least 1 in 5 kids round Africa are working to help their family, whether these working conditions are safe or not, but why are we relying on our children? why are we fostering a culture where parents have kids in order for them to support them financially? working as children from an early age and being deprived of having education , how can we end this circle of exploitation that has been normalized in Africa? How do we challenge what we have accepted to be normal,but its not? there is nothing normal about exploitation." Racha Haffar reiterated.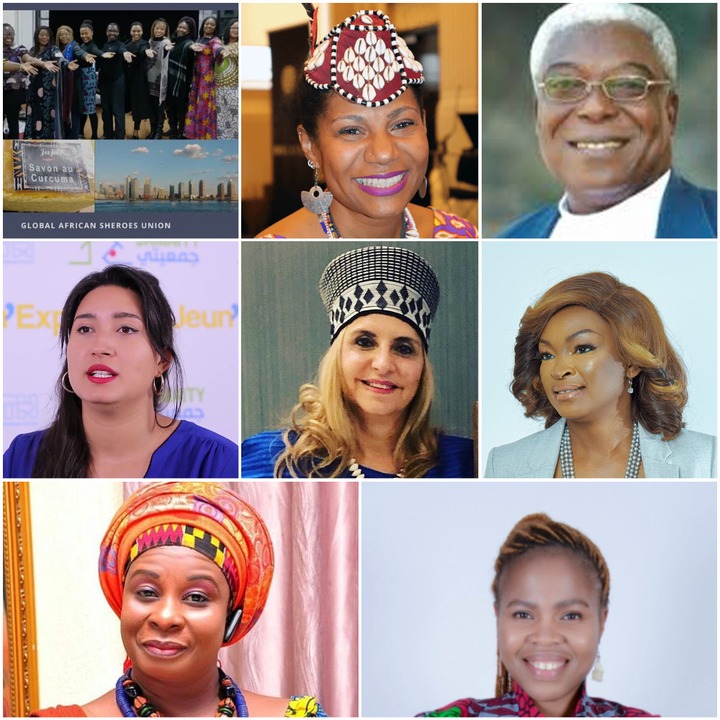 Fabrice Muchiga the Ambassador of Global Africa Academy ( GLAC) enjoined the conversation by raising concern on the need to understanding the uniqueness and differences of our culture .
"We need to take note of the sensitivities that this topic embodies, SDGs and Human Right are aspects that are universal perspective, but culture is very specific, sometimes in one country you find many different cultures, culture does not need to adapt to theme of SDGS, it will lose the essence of its diversity , its beauty. Culture must speak to human dignity, we have the responsibility as Africans and leaders to challenge whatever that is not working and not inline with human dignity in our societies"
" aligning culture to SDG and development will be very challenging, however there is one aspect that we need to take into account. We need to know our culture, take time to study it and understand what its really like, many of us do not know about our culture, there are so many people who do not know their local language, language is the vehicle of culture, see what's happening in China and Japan, they learn other languages but their local language is mandatory."
" let's also be selective in what we read on African culture and should take time as individuals to Interrogate the culture to understand why things are done in certain ways ,What ever that does not speak to human dignity,we have the moral responsibility to challenge that." Fabrice Muchiga said.
Queen Diambi Kabatusuila's historical contribution culminated to the end of the dialogue "We can not talk about African culture in general or encapsulate it to what it is offering us at this time, the African Culture we see today is also as a result of other culture coming In and influencing ours , though many of the things we know about ourselves or practice today are our so called culture but they are not Inherited from our ancestors, this is inherited from other culture that came to Africa to subjugate the indigenous Africans."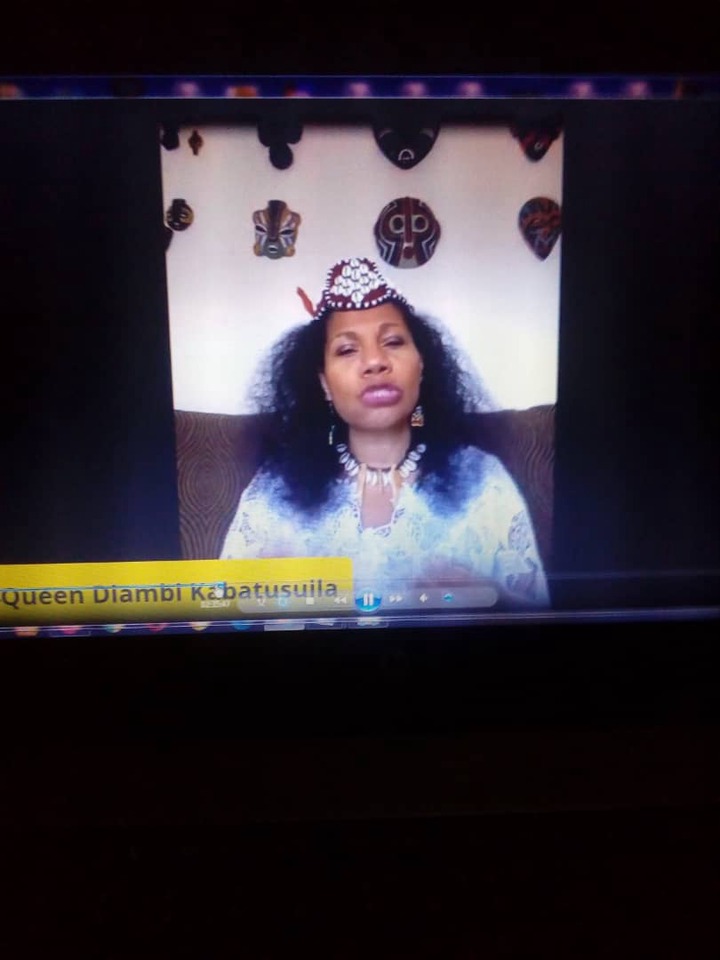 "We have to be very meticulous in de-entangling everything that is indigenous to us and those that was super imposed on us, women have always been on a pedestal in Africa, the image of God is a woman with a child in ancient Africa,in African culture women represents power, men represents authority. The women inferiority to the man is not an African principle, didn't come from Africa, but came to Africa, from those who came here to subjugate us, in their effort to make distinction between the man and the woman."
"We are talking about development and sustainability from whose perspective, when we talk about development we look at Africa playing catch up with the European or the Asian etc, the development model of the west is a total system failure right now and its keeps producing aberration after aberration after aberration, to every technological solution they bring they uncover more problems that comes with it"
"Sacred Ecology comes from Africa but when the Europeans came and saw that our elders were not keen to enter forest without asking permission, or cut trees without a serious consultation with nature, they said we were animists, and savages because we thought that God is in everything, now everyone have come to understand that without those trees we cannot breath. Those are core values of Africa's indigenous culture." Queen Diambi Kabatusuila pointed out.
"If we don't brush ourselves off from the symptoms of the trauma that we have lived through our history, because of the severe exploitation that we have endured for 800 years, we can not find a pathway that will lead to a new collective consciousness of us as Africans" She concluded.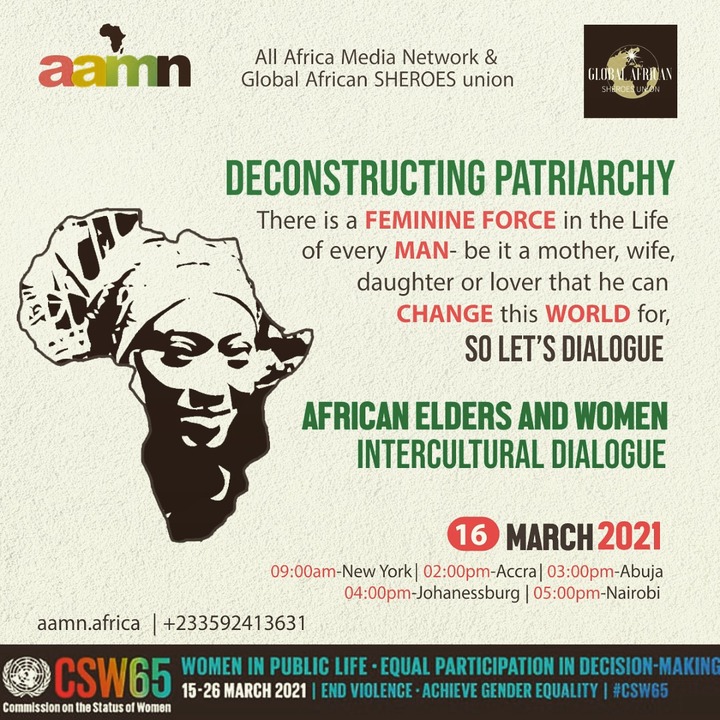 Cookey Iwuoha the project coordinator of the African Elders and Women Intercultural Dialogue explained the motive of the event "We didn't set up this event to condemn Africa's cultural practices in entirety, no. The world is changing so fast before our eyes ,and our culture is one of the things facing the gravest of danger from the unbalanced culture clash, so this dialogue was set up rather as a platform for us as Africans to play apart in deciding what changes in our cultural practices. Offering us a space to protect and advance our positive cultural values as well as taking the lead in doing away with those that are outdated, no culture is Innocent and as culture is dynamic, it is important that we guide ours towards employing the vital means of its sustenance.
"We called for this discussion to deduct as much diverse perspectives as possible towards forging a path towards our collective understanding of each other as African, it's a fact that it seems that a lot are not going well in Africa for a very long time ,and we in All Africa Media Network believes that though tomorrow Africa will wake up, we need to continuously disturb the sleep today. I will end my contribution with a quote from Ali Mazrui Kenyan Born American Academic professor which states and I quote –
" To Modernize does not mean to Europeanise not even for the Europeans, whether eastern, western or trans atlantic, to modernize means to shatter the containers which has kept any person, the embodiment of another, the revolution of modernization, is the first revolution in the history of mankind that is worldwide, because it touches every human relationship"
"Thanks to everyone that made it to this event, for being part of our efforts towards a positive change, let's try to not interpret Africa and its relationship through the European lens, but rather should reflect on ourselves from the African perspective and decide by ourselves, on what is no longer sustainable and endeavor to do away with them, regardless of the pillars of religion or culture that is upholding them" Cookey Iwuoha thanked Kim Poole the founder of Global African SHEROES Union and the entire team of the virtual edition.