There is no gainsaying the fact that the entire world is heading towards a digitally influenced activities on earth going forth, the advent of the 4th Industrial revolution which is recreating our world to one in which virtual and physical systems of manufacturing cooperate with each other in a flexible way at the global level is here to stay.
Uniccon a 2 year old Nigerian tech start up situated in Mabushi area of Abuja in the Federal Capital Territory of Nigeria has taken a major step towards inviting Africa and Nigeria in the global discourse on development in Artificial Intelligence, as it recently launched arguably Africa's first humanoid that can interact with humans, built as a female Igbo character that understands and speaks eight different languages.
The humanoid named 'Omeife' by its creators can interact with humans in English, French, Arabic, Kiswahili, Pidgin, Wazobia, Afrikaans, and of course, Igbo language. The idea to create Omeife was conceptualised in 2020 and its creators had been on a back-and-forth journey of construction —slow wins and quick-succession learning—that stretched across two years before it was ready and was unveiled to the world few weeks ago.
The 6-foot-tall multilingual human-like robot called  Omeife has a real time understanding of its environment including active listening and the ability to focus on a specific conversation thread as it's happening. "It's not just multilingual, it has the ability to switch languages and interact with specific gestures—hand illustrations, smile and other bodily gestures—that match the tone of the conversation," said Ekwueme the CEO of Uniccon.
What really underscores the Africanness built into Omeife is its ability to speak each language with a native accent, pitch and vocabulary, with detailed pronunciations of words, sentences and even phrases. African politeness values are also entrenched into its social interaction functions.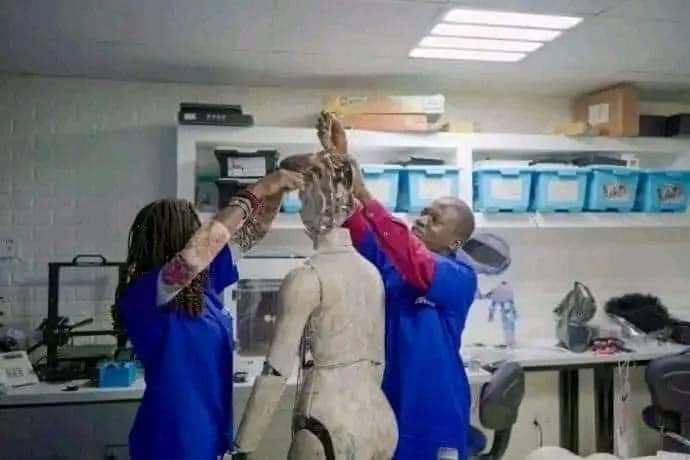 Ekwueme said Omeife pays attention to a specific person to keep the conversation alive, and chooses its words carefully—sieves out words, phrases, sentences and expressions that are not polite in African cultures. "This particular attribute makes it safe to interact with kids," Ekwueme added. He also explained that Omeife has a learning pipeline that helps it to improve and understand new things from conversations. It can also recall and understand old concepts better with new information.
Omeife also has terrain intelligence in that it knows its own ground level and stability on the floor, which helps it navigate on non-flat surfaces and maintain good balance. It also has a position awareness feature and a grip sensor that allows it to size, understand shape, and how to hold things with its hands.
Human-like robots are becoming more common for robot manufacturing companies. The primary idea behind this is to create machines that can perform tasks as efficiently as humans. But studies and recent events reveal that even after years of advancing, the rate of progress is too slow. For example, the underwhelming performance of Elon Musk's humanoid, Optimus, during Tesla AI Day in September attested to this slow progress. Despite Elon Musk's enthusiastic comment about robots taking over physically boring tasks from humans, top roboticists have predicted that the world is still a long way off building a robot that can outright replace human labor. And Optimus—walking gingerly on stage and later getting carried off by a group of people—proved the roboticists' assessment.
Ekwueme believes that his company has built a robot that is doing what it was designed to do. "We never planned to replicate humans but to build a robot that can support humans with some level of precision, and we have done that," he said. Most of the materials used for Omeife's hardware components are locally sourced. "We also built our cloud infrastructure needed for the humanoid to store terabytes of behavioural data from scratch. Infrastructure we are now commercialising and offering to private and government entities," He added.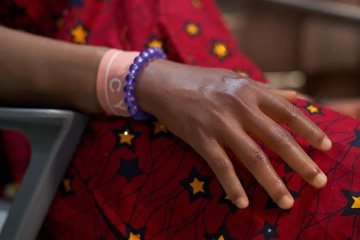 While Uniccon Group has tagged Omeife the first African humanoid on the basis of being the first African by design and purpose, and the first to announce its completion, Africa has other humanoid development efforts. For instance, Abdul Malik Tejan-Sie, a Sierra Leonean engineer based in South Africa is also building a robot, which has been tagged South African first humanoid. There was also an early effort from Richard Holdbrook, a Ghanaian who designed a prototype in 2018.
Uniccon Group is keeping the hope of improving the humanoid to the point of mass-producing and selling it for starting from $30,000 upward, Ekwueme said. This is similar to Tesla's plan for its humanoid. Musk said the humanoid, upon completion, will sell for $20,000. Optimus is built for physicality while Omeife is built for intellectual social engagement. "We can also build for physicality, all we need to do is to modify the AI and strengthen the hardware component of our humanoid," Ekwueme said confidently.
The emergence of Omeife as a product built and completed in Nigeria signals hope and affirm a new reality that Africa is not too far behind in the race to digitalize and modernize human activity, there was huge concerns among afro centrists on how Africa is to cope with the challenges of the recent times and how to take its place in the emerging global digital economy, as well participate and partake in the glory of the 4th Industrial revolution ,but it seems African youths are taking the bull by the horns and not willing to just be consumers of the products but contributors as well as co creators of the future world.