By Kim Poole
On the margins of Joe Biden's invitation to all African Leaders to join him in Washington D.C., the Teaching Artist Institute(TAI) was invited to Co-host the US African Investment and Trade Summit. During the Summit, on December 14th, the TAI-led Rhythm People Campaign was awarded a contribution of 5,000usd from the guest of honor; newly developed African nation Kingdom of Kush llc. The check presenter Mr. Dan, said "were giving you this check because we were told you are doing the work."
The next day several presentations were made about the Kingdom of Kush agenda and the safe space they want to provide for Black people living in America and beyond. Offers of a membership that would eventually become a citizenship if the Country ever becomes recognized by the United Nations. Before the 3-day event ended, representatives of the new Kush introduced their Ceremonial leadership; President Queen Mother Blakeley. The idea of an African Nation who is interested in the Historic African Diaspora outside of our buying power intrigued me.
On the third day delegates of our Teaching Artist Institute had effectively spread news of our Rhythm Peoplegoal to Reclaim our Global Cultural Economy. "Who are the Rhythm People," Queen Mother asked. "Theoretically," I responded, "the Nation of those Africans that were human trafficked from their homes on African soil against their will into hinterlands of Western society."
After much thought, I realized that though connected spiritually in the vibration of life creation; reinforced with every heartbeat around the world, Rhythm Nation is still in need of a capital.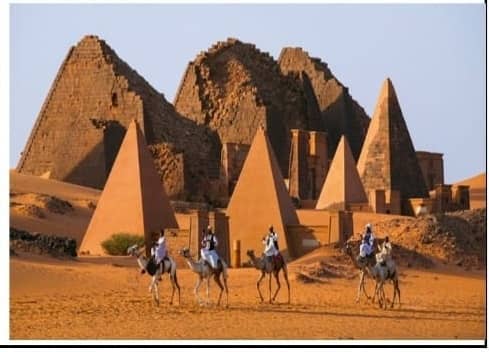 Thru the BirTawil Dispute of 1899 which commenced as a result of colonial powers involvement in the affairs of Egypt and Sudan, to the guy who traveled in 2011 to the barren sand dunes of BirTawil with his own flag and said it was officially his Kingdom; the very idea that there is a region in the Ancient Nile Valley with inhabitants and migrants that are actively inviting Rhythm People to join their efforts is refreshing. The Kingdom of Kush is New Nubia.
Those representing Kingdom of Kush effort did not come asking the diaspora for funding, loans, or billions of empty tourism dollars for a Year of Return. Instead they are giving out checks and offering a rhythmic reciprocity. The Kingdom of Kush has offered the African Diaspora a potential citizenship on the African continent. Even if only for the holidays, it sure felt nice.
Do you think such a Kingdom should exist?  Why or Why not?  Sign the petition at www.change.org/p/recognition-of-the-kingdom-of-kush-as-a-sovereign-state