As Love remains the most misinterpreted emotion in the world, with its different variants and shades being powered in the minds of both the sane and those hovering on the borders of insanity, it's quite a challenging task discerning what true love is, or should be at this time in history, as lust, jealousy, infatuation, and even deep attraction can be confusing and capable of powering ones hunger into an aimless journey of fleeting unhealthy romance, most times in the quest for fulfillment that is never attained.
This piece is not about the power of discerning what true love is or should be, but rather about finding love in the most noble and empowering activity for the human mind, which is reading, as we present to you 7 books that should be at the center of your life on this year's valentine's day and season.
Reading though mostly seems like an individual activity that can't be shared, but couples can find fun in sharing a book, reading a book together as well as gifting each other books that they believe can help broadened their perspectives or improve their persona, sharing interesting stories from an awe inspiring book is also a good way to spark up your relationship, by starting discussions about books that you can steer towards inspiring behavioural change in your lover.
We know for a fact that reality is not always pleasant and if you happen to find yourself without a partner this time of the year, there is no need to brood for lack of romance this time, love like magic can happen anytime, so we present to you this 7 books to help you cope this valentine season and make a better you out of you at the end of reading one or two on the list,in the list we have something for every one,romance novels and non fiction works, Poetry and lifestyle book,whichever genre you crave for,your thirst is likely to be dearly satisfied.
You Made a Fool of Death With Your Beauty-Akwaeke Emezi
A person's first romance after losing their spouse or partner is a delicate, tender, fraught experience, to say the least. Feyi, a widow of five years whose husband died in an accident, senses this and still doesn't want anything serious. Then she has one surprise connection that leads her to a nearly-perfect boyfriend—and his father, who she feels even more of a magnetic pull toward. You Made a Fool of Death…isn't afraid to get messy in exploration of grief and how love can come after, making it a memorable read.
Forest Girl by Empi Baryeh
Forest Girl by Empi Baryeh Ghanaian Award Winning Novelist, was released few years ago in the month of June, and fate has yet played a part in ensuring its emergence among books for the month of June by the book club.
The Romance Novel is a story hinged on a love triangle between a man Michael , who found himself in a complicated love triangle with two women, one being his wife Esi and the other a mysterious forest girl that he had met in a chance encounter.
Michael may have married Esi, but he is in love with someone else, a mystery woman he encountered just once in the forest. The Forest Girl can be purchased at Legon Bookshop,or onlne at Booknook stores and have it delivered to your door step.
3.STEEZE
Authored by Nancy Adobea and launched on the 24th March, 2021. Steeze awakens the spirit of styles culture in Ghana, Africa and the globe at large. The book bring to fore style with ease while making bold statements on effect of colors, confidence and general grooming. Steeze has the capacity to change your entire lifestyle from your daily and seasonal wears to renewing your mindset on why you need to constantly look amazing regardless of your income level , and what and what not to do to ensure your style blends when it needs to and stands out with a wow if there is need to.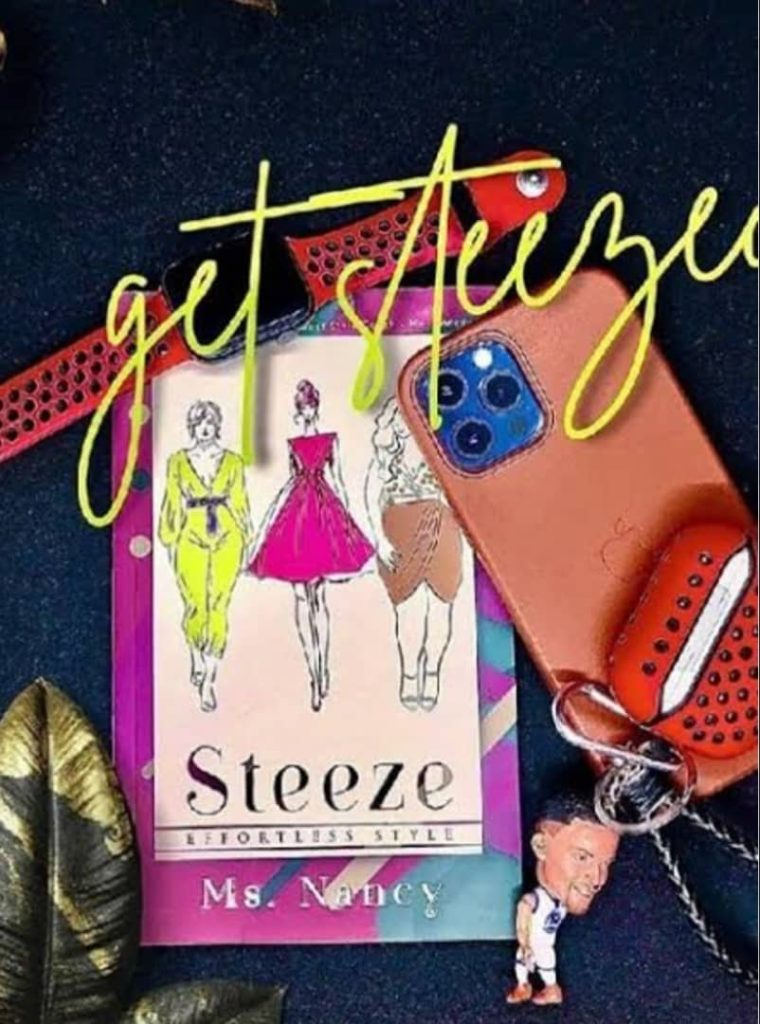 Nancy Adobea Anane, a.k.a Ms Nancy is a popular Ghanaian media personality, professional style coach, author, and a writer. She uniquely blends the skill of writing, a personal stylist and a life coach to training others on creating and maintaining individual brands by incorporating some level of brilliance, good looks, confidence and stress-free-lifestyle to their persona. She is mostly famous for her talks on style coaching, sex, and marital counseling which constitute her career.
4.The Tragedy of Being Born Beautiful
The Tragedy of Being Born Beautiful is a thought-provoking, multi-layered collection of poems divided into four parts, Dawn, Sunrise, Sunset and Twilight.

In Dawn, the poet concentrates on abstract human relationships while Sunrise takes aim at discouraging social injustice. Sunset addresses the intricacies of emotion and finally, Twilight reflects on the universal search for meaning, self, and identity.

Much like the seasons of man, the poems alternate between tender, angry, helpless and heartbreaking as they address age-old questions and emotions of life's purpose, man's inhumanity to man, despair of the soul, hopelessness, and the loss of self-purpose.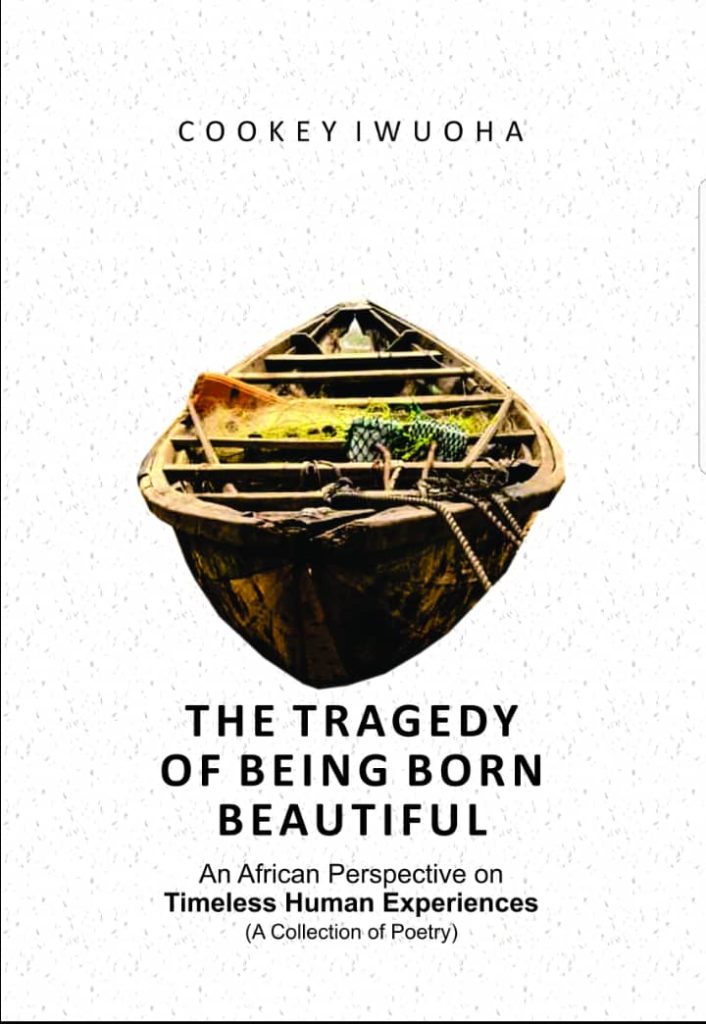 The poet known for his enigmatic style of replicating modernism on a papyrus, delved into the present- past to collect essential issues and dissect them on today's society, infusing their influence in our psyche and then battles it to standstill on his readers mind.
" Iwuoha's mastery of language and imagery is brilliant and invites readers to spend time with each poem, reading and deciphering them more than once in order to delve deeper to peel away the layers and reveal the message held within. "
"As readers journey through the parts, questioning despair, hopelessness and disillusionment give way to hope, self-discovery and meaning."
This collection is a keeper and the poems will stick with you long after you close the book. Every now and then, you'll find yourself reaching for the book again.'' Mary N Oluonye explicated in the foreword of the book which she penned.
In the collection a philosophical poem bearing the title of the book questioned the source of evil in man ,if man's capability of exhibiting treachery to his fellow human an emanation of the innate will in him by the divine, or a resultant action of his experiences influenced by his environment.
Cookey Iwuoha is a journalist, prose stylist and poet; dialogue facilitator, columnist and author of many published articles aimed at the development and decolonization of the mind of the African youth. This is his second collection of Poetry. His maiden literary work The Contents of Our Empty Graves a poetry collection on social vices, love and justice was published in 2011.
5. Honey and Spice-Bolu Babalola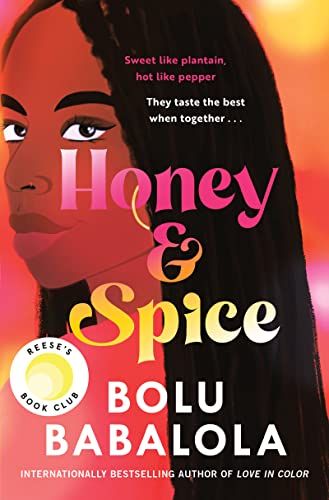 In a crowded field of campus romances, Honey & Spice stands out. Kiki Banjo considers herself an expert in avoiding relationship "mess" and advises the women in Whitewell University's African-Caribbean Society to do the same in her hit campus radio show. Then she stumbles into her own mess by kissing a known player, Malakai Korede, necessitating a faux relationship to undo the damage. This juicy set-up only gets more funny and earnest from there. (And for more of Babalola's singular voice, her short story collection can't be missed.)
6. A Toast to Life – Juliet Ibrahim
A Toast to Life is a chronicle of events in the life of Juliet Ibrahim a renowned Ghanaian actress, film producer, singer and humanitarian of Lebanese, Ghanaian and Liberian descent. Juliet Ibrahim's launch into the celebrity world started with a modeling career as a runway and editorial model; modeling for the big designers brands in Ghana and Ivory Coast.
A Toast to Life is best described with one phrase "brutally honest' as her memoir narrated the challenges of relationship, a teen's struggle with her body and self, attention and lust of the opposite sex as well as un-weaving a web of intricacies on sexual abuse, and gender based violence.
Excerpt from www.naijabookbae.com review of A Toast to Life reads thus "celebrities are mere human beings, which is what the memoir succeeded in doing, painting her as a normal human being, who just happens to be in the entertainment industry."
" The book talks about the things that have happened to her, from the beautiful to the ugly, especially by humans, and it's awesome how steadfast she has been able to be all her life and how she lets nothing deter her, instead she trudges forward. It is very motivating.
"Ultimately this memoir succeeds in showing the humanity in Juliet Ibrahim, who isn't just a face behind the screen, she is also a human, who goes through the motions of living and struggle that comes with being a human female, no matter her status.
7. Can we Talk and Other Stories- Shimmer Chinodya
Fiction /Relationship
Can We Talk is a collection of Zimbabwean stories following the transition from childhood to adult life. Youthful desires for prosperity, love and a purpose in life are undermined for Chinodya's characters as they grow up. The disappointments they face reflect a wider disillusionment and decline in post-independence Zimbabwe. In the final story, "Can We Talk", cynicism turns to anger at the breakdown of a marriage. Can We Talk as the lead story in the collection is a couple's challenge with the complication of communication as their marriage aims for the rocks, and how a simple thing as a heart to heart talk can ease and untangle the knots and emotions that suffocates relationship till its untimely end.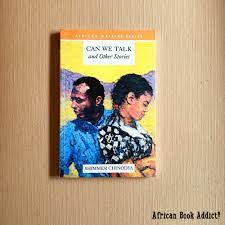 Most of this books can be found online and we wish you incredible memories this season- TABA